Meet the Girls
Josefine Holmqvist, Urban Deli, Stockholm
Next up was Josefin Holmqvist from Urban Deli – again Stockholm. With a historical knowledge of BJÖRK bar – having previously worked there – her confidence came right through and with speed she kicked off.
Josefin had a style demonstrating power and knowledge in her moves while had a more quiet presence in the bar. Her choice of ingredients, glassware and garnish was simple and impactful. She could have benefited giving some more chat with the judging panel. Although most likely knowing the information why she used the categories and the products – this was never shared with the panel. Josefin started up by creating her concoction Rhubylicious where a main balance to Rhuby was yet again a gin. Taken the delicate flavour of the rhubarb the skill of balancing Rhuby and keeping the flavour profile without losing the taste to heavy juniper, the measures have to be precise. Her explanation was that the juniper cut through with the sweetness and balanced Rhuby not a sophisticated and mature drinking occasion. An addition of vanilla was placed into the drink and she garnished simply with orange zest and left a peel wedge in the glass.
Rhubarb is a plant – a perennial plant – and many of the competitor finalists had in common the realisation a rhubarb mixes well both with savoury and with sweet or sour. Bitters in a natural match and one which makes the drink slightly more complex and for the Classic cocktail drinker vs. the very summery refreshing qualities often associated with Rhuby. They demonstrated a great variation.
 Rhubylicious

2cl Beefeater
1cl Cointreau
2 cl Rhuby
1,5 cl sockerlag
3,5 cl färskpressad citron
3 droppar orange bitters
Muddle fresh rhubarbs
Garnish: Orange zest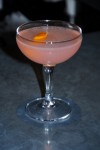 With a slight tangy citrus finish the judges were impressed with the simplicity and the balance. Some would have wanted to see a bigger hint of rhubarb in the cocktail. The bartender due gave her high marks on balance and simplicity with clean delivery.
Her next concoction should have been the Classic – while with the speed she went ahead with her personal favourite – Urban Basil Fudge – which certainly showed a pungent punch. With chilli and peppers she created a hot and slightly sour concoction – served with simple and fantastically impactful garnish in shape of a cut off chilli.
Colours were bold and vivid – making it an eye-opener for any bar. Here she had more confidence and displayed slightly more information – while again the panel marked her down on too little chat.
The Classic – Negroni – was no challenge but time was running and Josefin showed great skill and knowledge pulling together the drinks at amazing speeds, while as the clock chimed she was running over. The Negroni could have done with some dash of bitter or garnish – but time was already up.
Her height gave her an advantage as well as having a clear voice which all judges had no challenge following in what was a pretty noisy bar.