Meet the Girls
Sofie Larsson, Owner of Magic Bar, Stockholm
Sofie Larsson, owner of Magic Bar – Stockholm came behind the scene with a large smile. A perfectionist with a glamour and personal style even before starting to shake her concoctions.
Sophie had a clear delivery on product demonstration, while could have benefited to talk some more of heritage and qualities of her selection of products. One of the few holding up product and clearly explaining measure and balance. She had major + points from the bartender duo on handling ice hygienically and measured everything she used. In addition napkins on bar with the serve, something which not all contenders remembered.
Her first cocktail out was in the more classic line of Rhuby where summer and spring refreshment was high on the priority list.
Miss Regina Rose
3cl Rhuby
2cl Absolut Kurant
Rhubarb
Sugar
Russian (Pink Grapefruit Tonic not always available abroad – bitter flavour)
1/2 fresh and peeled rhubarb – mix with spirits and sugar in blender.
Glass: whiskey tumbler filled with crushed ice. Top with Russian
Garnish: Rhubarb Peel in shape of Pink Ribbon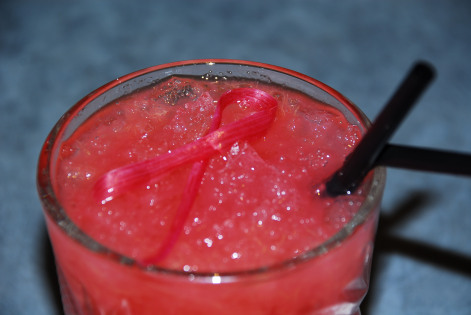 When probing, Sofie explained the name selection Ms Regina is after her best friend, the actress Miss Regina Lund – having recently been diagnosed with breast cancer. The drink was in her honour and to raise the awareness of the importance to check oneself out in time and raise the awareness.
Sophie worked professionally and calmly, while still well within the time pressures given. The balance was a slight overtone of the Kurant or potentially the Russian.
Her Classic was – Clover Club – she went ahead creating after a short explanation. The Classics from Sweden may not have the same standard Classic list as often found in NY or London. The general judging score was even across all her drinks she prepared.
Her personal cocktail was something else. Honey Bunny Bloom – showcasing a sweet-tooth and certainly gave the judging panel a person with a personal preference – scoring a higher rating. Sofie was certainly making and mixing something she personally loved and adored. With enthusiasm and knowledge she explained her Bumblebee creation which had chocolate sauce in lines through the cocktail glass. The 'several liqueur later' concoction was then poured and topped with a massive chocolate heart. Personal, different and innovative. Certainly an after dinner cocktail which would fill you up like a dessert.
The finalists were all gathered with some press coming and going throughout the day with specific reasons being there. The Rhuby distributors – Berntson Brands – had their sales team well impressed by the high standard showed in the competition. Without any prejudice one has to state the obvious for most women – female bartenders to stand out in the high competition have to be a lot better than most of their male counterparts to get the job. These girls certainly demonstrated clear evidence this was correct.