---
Rhubarb Product of the year - 2013
by Emma
In Södermanland there is a rhubarb festival taking place every year to commemorate this gorgeous perennial plant. Created initially by an organisation called Rheum it has now been running week 21 for more than 11 years.
The reason the festival of the rhubarb is held in Södermanland is the historical heritage of being a high rhubarb cultivating land while has demonstrated great soil to carry the plant forward. Each year there is a nomination of best rhubarb Product and Rhuby has been in the running.
More than anything – we were beyond pleased to realise Rhuby made the Winner of this years prize.
Humbled and bowing.
Click the rhubarb festival and you can see the various initiatives Rhuby undertook during the festival.
Categories: rhubarb Rhubarb Liqueur Rhubarb Product of the Year Rhuby Södermanland
Tags: Rhubarb Liqueur rhubarb product of the year rhuby
---
Guest Bartending 'The Soap Bar' with Jolene and Ash 20th May 2013 – A great Success
by Emma
Mellan 18.00 – 20.00 kom några av de framstående inom Stockholm bar och restaurang scen för att prova den helsvenska Rabarberlikören – RHUBY. Bartender guest appearance Ash och Jolene var finalister i den första nationella kvinnliga bartender tävlingen i UK – Pink Your Drink. Många deltog – men endast de 8 bästa fick en plats i finalen som gick av stapeln under London Cocktail Week 2012. Arrangemanget på Soap Bar var i ära av öppnandet av Pink Your Drink 2013 som går till final i Oktober och för industri att komma och smaka denna nya fräscha drink – RHUBY.
Image Gallery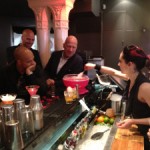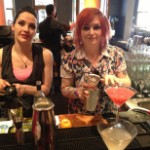 Categories: Pink Ribbon Pink Your Drink rhubarb Rhubarb Liqueur Rhuby
Tags: Ash Scatty Bovey Jolene Cadwell Pink Your Drink Rhubarb Liqueur rhuby Ylva Binder